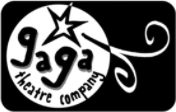 ga ga theatre
Ga Ga Theatre believes that theatre can and should be a regular part of all children's lives. Our new development plan will allow us to produce two shows and one summer festival per year by 2021. This would mean that by 2021 we would be reaching an average of 23,000 children, parents, teachers or carers per year.
All our productions stay true to the book. This introduces children to the lasting delights of books, whilst also improving their literacy and vocabulary. During the production, the audience is taken on a journey into the hearts and minds of the characters, promoting understanding and improving both communication and empathy.
Our weekday shows will offer subsidised tickets to harder to reach schools (prioritising those with high percentages of children receiving free school meals) and to children in special educational needs schools. We will be partnering with children's social care and education charities across London, to ensure that our work is directed strategically to locations in which we can have the most impact.
At the weekends and during school holidays we will tour to both cinema and theatre venues in London. This creating magical theatre experiences that are fun, stress-free and to be enjoyed by all, this bringing both professional and affordable theatre to local family areas.
Our Story
A friendship born from a love of theatre at University, and a passion to follow a shared creative dream. Learn more about Rachael and Katie's stories and the people who have helped them along the way….