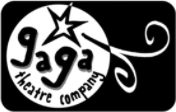 ga ga theatre
We believe that theatre can (and should!) be a regular part of children's lives, and not a rare outing with the hassle and stress that it can involve. That is why we are bringing professional theatre closer to you and creating a magical theatre experience that is fun, stress-free and to be enjoyed by the whole family.
Our productions will always be convenient to reach and you will be encouraged to relax and enjoy the show knowing that the children (and babies!) are being stimulated, inspired and enriched.  The production itself will integrate live action, original music and projections on the big screen based on illustrations from the book. This will bring the book to life in a completely new way, while still remaining true to its original spirit.
With high quality productions and the unique Ga Ga experience, we aim to create memorable childhood experiences which you can share and enjoy together with friends and family.  We really hope that you enjoy the Ga Ga experience and look forward to welcoming you back again and again!
Our Story
A friendship born from a love of theatre at University, and a passion to follow a shared creative dream. Learn more about Rachael and Katie's stories and the people who have helped them along the way….