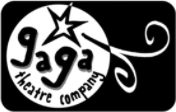 ga ga theatre
Our Vision
To create a love of the arts and literature for all children through magical theatre experiences.
Our Mission
At Ga Ga Theatre we believe that theatre can be a regular part of all children's lives.
We produce shows, festivals and learning experiences designed to include all children, no matter what their situation. We bring popular children's stories to life in a unique way by combining modern technology with traditional theatre.
One of our goals is to reach over 10,000 children from harder to reach schools or who have special education needs. Partnering with children's social care and education charities, we ensure that our work is effective and strategically directed to locations in which we can have the most impact. Unfortunately due to fundraising challenges we were unable to reach our target to enable our plans for 2020. We will keep you posted……
Our Story
A friendship born from a love of theatre at University, and a passion to follow a shared creative dream. Learn more about Rachael and Katie's stories and the people who have helped them along the way….