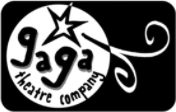 Our Shows
After a sell-out tour of Up and Down in Autumn 2013 and Spring 2014, Ga Ga Theatre was delighted to tour a first-ever adaptation of Quentin Blake's much loved book 'Mrs Armitage and the Big Wave' to venues accross London in Autumn 2016.
There are not currently any Ga Ga Theatre productions on tour, but we will be developing a new show shortly, so watch this space….and sign up to our newsletter (at the bottom of this page) if you want to be the first to know!
Combining live theatre, original music, and magical projections on the big screen, it's about having fun and relaxing in the knowledge that the kids (and adults!) are being entertained, inspired and enriched by the show.
This show toured for 4 weeks in October 2016
Suitable for children aged 4 to 7 (all ages welcome)
Venues Across London
Running time: Approx. 60 minutes
Surf's up! The ever-ready Mrs Armitage has hit the surf with her faithful dog Breakspear, and they are all kitted out for a Californian slither with a custom-built surfboard. All they want now is the big wave…..Mrs Armitage and the Big Wave is an internationally best selling picture book written and illustrated by the multi-award winning author and illustrator Quentin Blake.