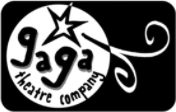 ga ga theatre
We believe that theatre can (and should!) be a regular part of children's lives, and not a rare outing with the hassle and stress that it can involve. That is why we are bringing professional theatre closer to you and creating a magical theatre experience that is fun, stress-free and to be enjoyed by the whole family.
Our productions will always be convenient to reach and you will be encouraged to relax and enjoy the show knowing that the children (and babies!) are being stimulated, inspired and enriched.  The production itself will integrate live action, original music and projections on the big screen based on illustrations from the book. This will bring the book to life in a completely new way, while still remaining true to its original spirit.
With high quality productions and the unique Ga Ga experience, we aim to create memorable childhood experiences which you can share and enjoy together with friends, teachers and family.
Meet Katie
Katie Russell
When I was 7 my music teacher Miss Silverman (who was my favourite teacher!) was looking for a soloist to sing in the Christmas Concert. She taught the whole class the song and then asked us all to sing it as a solo. I do not know how or why but I could sing really well. I still remember the words to that song……
From that moment on my childhood was non-stop music. If I was not revising for a musical theory exam, I was in a flute lesson or rehearsing for singing in a concert or a show. I stayed on this path for ages! I did music A-Level and went to Exeter University to do a music degree.
This is where I met my friend, co-founder and co-producer, Rachael (…I know, we really must think of a shorter title!). Rachael and I both had auditioned for the Exeter University Footlights. We had loads of fun preparing for the shows over the three years and we were really lucky that Exeter University was the home to Northcott Theatre (a fantastic venue for the performances).
I really enjoyed performing in the shows but during my finals (I must have been mad) I decided to take on the role of producing an Exeter University Footlights show. I produced the musical Oklahoma and we sold 3000 tickets. I really enjoyed the experience (and getting the chance to boss everyone around). Remind me when we meet to tell you the funny story about the shows, the buses and our home number!
After University I briefly pursued a career in the arts but decided to take a different route and pursued a new-found passion for fitness. I have run my own Personal Training business (full-time and part-time) for the last 13 years.
When I came home from a holiday back in June 2012 I had lots of texts and a few voicemails from Rach saying I really need to talk to you. I arrived at her house to the most excited Rach I had seen for a long time. Within a few minutes she said I want to start a children's theatre company and I want you to do it with me.
It has been a wonderful journey making shows for Ga Ga Theatre, we have reached thousands of children on our sell-out tours using images and music from well-known storybooks. I am delighted to be a Trustee and to take on the role as CEO and to lead us through our next exciting few years…….