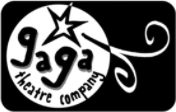 Previous Shows
Up and Down

Up and Down
'Up and Down' – The Story
The boy and the penguin are back! In this adventure, the penguin really wants to fly. Ignoring the boy's advice that it is impossible, he leaves his friend to go searching for a chance to get his feet off the ground. But will flying be everything he had hoped? This is the sequel to the internationally best-selling picture book Lost and Found and is written by the multi-award-winning (and rather good-looking…) author/illustrator Oliver Jeffers. 'Up and Down' is a funny yet touching story about the importance of friendship and reaching for one's dreams, that speaks to all ages.
'Up and Down' – The Show
In this production, live theatre was integrated with magical projections on the big screen based on illustrations from the book. It was a multi-sensory show with original music, creative lighting and innovative props to keep all members of the family absorbed (babies and dads included!). Our audience were humming along to the catchy tunes, giggling together at the funny story, and sneaking a cuddle during the exciting bits!
Book Reviews
"Visually witty, poignant and spare, it is sure to stoke the author's huge popularity" Culture, Sunday Times
The Author, Oliver Jeffers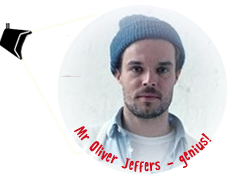 Oliver Jeffers was born in Port Hedland, Western Australia in 1977, but spent his childhood in Belfast, Northern Ireland. A multi-talented artist, his work includes figurative painting, installation, illustration and picture-book making. His work has been exhibited in New York, Dublin, London, Sydney, Washington DC, Belfast and elsewhere. Up & Down, published by HarperCollins UK, is the fourth story about the boy and is the sequel to the award-winning, best-selling Lost and Found – now a BAFTA award-winning animated film. How to Catch a Star and The Way Back Home complete the quartet. His picture books have won numerous awards including the Nestle Children's Book Prize Gold Award, Blue Peter Book of the Year and he has been shortlisted for the Kate Greenaway Medal four times. The Heart & the Bottle has been made into a highly acclaimed iPad application. He now lives and makes art in Brooklyn, New York. You can find out more at www.OliverJeffers.com.
Photos
Here are a few production shots of Ga Ga Theatre's first production, 'Up and Down', which is toured around cinema venues in London in Autumn 2013 and Spring 2014.
Team
Matt Aston – Adaptor and original direction
Fran Moulds – Director of Revival
Julian Butler – Composer
Barney George – Designer
Will Simpson – Filmmaker
Katie Russell – Producer
Rachael Richards – Producer
Original Cast
Jake Addley – The Boy!
Emily Altneu – The Penguin!
Reviews
Here are a selection of reviews from the press and general audience members. 
"Your children will be charmed by this inky delight" Patrick Marmion, the Mail
Full Article from the Mail: Michael Gove would be a happy man if he could raise standards in schools as high as they've been raised in children's theatre.  Gone are the days of shoestring budgets and sticky-back-plastic covered sets.  Today it's a sophisticated business — even for under-fives, as the new Ga Ga Theatre Company is proving. It is staging a beautifully executed production of Oliver Jeffers's charming picture book Up And Down. Touring London cinemas, the show tells the story of a boy in a red-and-white jumper and his penguin friend, who is desperate to fly.  It's a tale of friendship lost and re-found, told with childlike images and inky colours. The performance matches this with two genial actors, cartoon props and animated images of Jeffers's paintings projected on the big screen.  High-flying dreams: The theatre adaption of the book is a play for under-fives about a boy and his penguin friend stuck on the ground. Music from pre-recorded piano and ukulele make for a warm atmosphere, while tots help out with directions to the zoo or by pulling a parachute across the auditorium.  It's not as easy to see as it would be in a theatre, but my three-year-old girl was enraptured by every moment of the 40-minute show. Read more: http://www.dailymail.co.uk/tvshowbiz/reviews/article-2465469/Up-And-Down-review-Your-children-charmed-inky-delight.html#ixzz2iOUQc2Fv
With the comendable intention of making children's theatre accessible and local, the new theatre company Ga Ga Theatre are touring their debut show to six cinemas in London –  Timeout London
Marrying live acting with projection based on illustrations, that many of the young audience will recognise, is an ingenious way of introducing theatre to under-sevens who will be more familiar with film. It's a brave idea from a new company."  Susan Elkin, The Stage
This lovely story with beautiful illustrations has been brought to life and adapted for the stage by Matt Aston… it's just delightful! With a backdrop using the cinema projector we see the familiar Jeffers illustrations and in front of them two very engaging actors play the part of the boy and the penguin…It's very sweet and because the cinema is a much smaller environment than a traditional theatre we actually felt part of the story…My children really enjoyed it…Usually we go to see things perfect for one or other of them but 'Up and Down' definitely enchanted both of them. It's just the right length too, I made it about half an hour. – Rock 'n' Roller Bab
The actors brilliantly brought Boy and Penguin alive with very physical performances from both. This is well suited to children's theatre….L was captivated by the show…I was really impressed with this show. It is a wonderful adaptation of a brilliant book and it is really thoughtfully done. It is very obviously aimed at young children with simplicity a key theme which matches the Jeffers books. But as an adult I was also very happy to watch. There is humour and a heart warming story of friendship in this adaptation. There is also a surprise audience participation which won't have any one squirming but will make for some excited youngsters. – Life and Works of Mummy Morkus
We absolutely loved it, parents and children alike. We adore the story and personally I think the pictures are beautiful, but you managed to achieve all the key elements of the story beautifully on stage with gentle interaction and fantastic music. Can't wait for your next one!  – Sarah, audience member
I came with a group of 11 people. 4 adults and 7 children aged from 8 months to 4 years old. We all thoroughly enjoyed the performance.  The staff were kind, professional and extremely patient. I would definitely recommend the venue to parents with young children.  The production itself was excellent. It really captured the sweet poignancy of Oliver Jeffries' books. The use of the screen was inspired, the actors were superb, the soundtrack was lovely and the set, simple but clever. The show was captivating for all of us.. Again, I would say simple but clever. – Christella, audience member
Just wanted to say how much my 3yr old daughter and I enjoyed your performance today. We will certainly be looking out for more of your shows.  The actors, stage sets and the music was really the best I have seen since attending kids theatre. A very magical morning was spent with you. So thank you to all the hard work it certainly paid off. Please keep the shows coming – Vanessa, audience member
We really enjoyed the show. We are big Oliver Jeffers fans & thought you captured the book's gentle humour & the tenderness of the boy & penguin's friendship very well.  The parachute section was a brilliant idea & really connected everyone with the characters. My kids are 2 & 5 and they really enjoyed it. The soundtrack was brilliant and the 'front of house lady' was very friendly & welcoming. We look forward to your next production.  – Emma, audience member
I just wanted to say what a great time we all had last Sunday – it was the first time I had taken my little boy to anything like that and he had a fantastic time!  The whole process was so easy, and you were so helpful – what an absolute treat!! The performance was great, and super value at £12 a ticket!  All in all a thoroughly enjoyable time, thank you so much again, would love to know when you have more productions in the future! – Lisette, audience member
Hello, I was really nervous and didn't have much hope of my daughter (22 months) enjoying the show after a truly disastrous trip to see Ben and Holly live earlier this summer where we had to go home after half an hour and a lot of crying. How wrong could I be……….. we both really enjoyed the performance. You have a winning formula; a calm atmosphere created by a combination of the music, the set and the actors was perfect and really did make a massive difference for us. – Claire, audience member