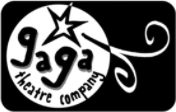 In the Community
Ga Ga Theatre company will use each production that it produces as a good excuse to support a local charity. We were so excited to discover a fantastic charity called Door Step library Network. We share the beliefs that children need to read well, that parents can support the love of reading and that the community has a part to play in supporting parents with the greatest needs.
Door Step Library Network
What does the Doorstep Library Network Do?
The Doorstep Library Network runs Doorstep Libraries on five estates in Hammersmith & Fulham. Each Doorstep Library has a team of up to eight Home-Reading Volunteers who pay weekly visits to families. Volunteers read stories to the youngest children, help budding readers to practice their reading, read and discuss books with older ones (up to 11). They bring a selection of books for each child to borrow for the week.
Home-Reading Volunteers seek to involve parents in the reading sessions to enable them to experience how they can contribute themselves to their children's education.
In addition, Home-Reading Volunteers befriend parents who are often isolated and in need of support. They regularly pass on information about local activities and services which can support them in their parental roles. When appropriate the team-leader supports families to access these services.
Volunteers work in pairs. They visit the same 4 to 6 families each week. Arriving to the project's base at 3.45pm, they select books for each of the children they intend to visit. Before setting off for their visits the Team-Leader provides the volunteers with any relevant information to pass on to parents. After the visits, at 6pm, all the volunteers return to base to put away the returned books. They then fill in a record sheet which ensures continuity and enables an evaluation of the impact of the project on each family.
We need volunteers to make a sustainable weekly commitment of at least nine months from 3.45pm to 6.30pm during term-times. Each term ends with an evaluation session.