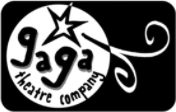 Mrs Armitage and the Big Wave
About this show
Mrs Armitage and the Big Wave
Surf's up and Mrs Armitage is in town! After a sell out season of its last production, Ga Ga Theatre is back with a first-ever stage adaptation of Quentin Blake's family favourite picture book Mrs Armitage and the Big Wave. Eager young minds will be swept along with Mrs Armitage and her custom-built surfboard and dog Breakspear. All they need is the big wave! It's a funny and touching story about friendship, helping others and how to stay positive and keep going.
This show integrates live performance with magical projections on a big screen based on Quentin Blake's illustrations from the book. It is a multi-sensory show with original music, creative lighting and innovative props to keep all members of the family absorbed. The show is perfect for all the family, and particularly suitable for children up to 8 years.
You will be all be humming along to the catchy tunes, giggling together at the funny story, and perhaps sneaking a cuddle during the exciting bits!